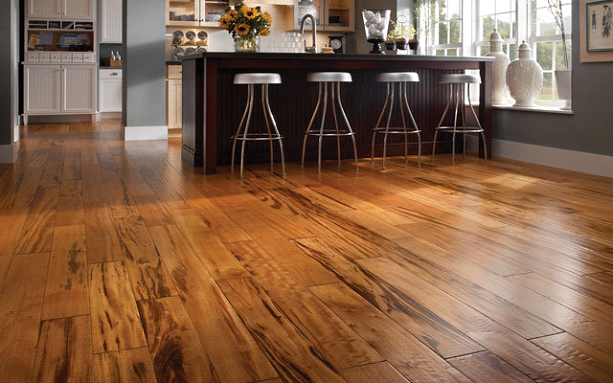 Hardwood flooring company in the Ottawa / Gatineau region.
Hardwood flooring is more environmentally friendly than other flooring types as it is a renewable resource. Hardwood floor installation is a great long-term investment, they are durable and strong, allowing them to last for generations, even through high foot traffic and active spaces, which provides return on your investment and increases your property value.
Hardwood flooring comes in a variety of styles and colours and different types of wood to suit your taste and needs. Bamboo hardwood flooring is the strongest of the woods and great for gym floors or high activity areas. Maple hardwood flooring is one of the most popular floors for its durability and the unique look of its grain.
Maple hardwood flooring looks great stained or natural.  Oak hardwood flooring is the other popular choice for your home, especially kitchen flooring as it is more robust than maple due to its tightly packed grains. Oak hardwood floor colours are more golden compared to the lighter hardwood flooring colours of maple.
At Broom Construction our team of flooring experts make the daunting task of how to install hardwood floors easy for you. Our team is efficient and knowledgeable and take meticulous care.
Give us a call for a free, no obligation hardwood flooring estimate.
CONTACT US
1.888.508.3005
69 Valley Drive
Wakefield, Quebec J0X 3G0
info@broomconstruction.com